Tobacco smoke, cooking smells, damp carpet, whatever your odor problem, Arotec can solve it. Diffusing one of the Arotec solutions with Air Aroma's patented cold-air diffusion units you naturally break down bad odors without the use of harsh chemicals or irritating solvents.
Arotec doesn't cover up any odors, it breaks them down naturally and neutralizes the air. This makes Arotec the perfect solution for fitness centres, hotels, casinos and nightclubs. Choose from either Arotec, Arotec Strong or Arotec Fresh (with a hint of Guava/Cucumber).
Odorless
Odor removal
Created in Australia
Cigarette smoke
Mould
Animals
Musty upholstery
Laundry
Sweat
Body odors
Mildew
Pets
Damp carpet
Rubbish
Oil paints
Bleach
Deep fat fryers
Food waste
Bacteria
Sport shoes
And more…

Release Arotec micro mist into the Bacteria / Odor filled air

Arotec seeks out and combines with Bacteria / Odor molecule

Arotec then dissociates and degrades the Bacteria / Odor naturally
No Smoke. Steriwater
Powerful cigarette and tobacco smoke remover, proven to eliminate bad odors & neutralize the air.
What is No Smoke Steriwater?
No Smoke Steriwater is a scientifically proven anti-bacterial, anti-viral and odor elimination product. It is a powerful tobacco smoke remover that is not only safe for human use but leaves the air feeling revitalized and clean. Enjoy a smoke free environment with No Smoke Steriwater.
Made in Japan
No Smoke Steriwater is a 100% Japanese made product, Developed by a highly regarded team of international Doctors and professors at the leading national technology universities in Japan.
Scientifically proven
Scientific tests have proven that the Steriwater formula destroys many of the chemical substances which are the main components of tobacco smoke. No Smoke Steriwater has been extensively tested by independent laboratories and has also proven to eliminate other bad odors including food and body odors.
100% safe
Steriwater has been scientifically tested and proven to be safe for humans, animals and plants. Tests included draize test, Oral Toxicity Test and Skin Sensitization Test with results concluding no skin or eye irritation. Test reports are available upon request. Steriwater eliminates tobacco smoke and odors but is 100% safe for use.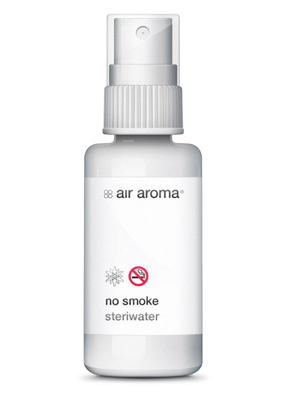 Why steriwater?
Powerful cigarette and tobacco smoke remover, proven to eliminate bad odors & neutralize the air.
Smoke elimination
No Smoke Steriwater is a scientifically proven professional grade cigarette smoke elimination product. Cigarette smoke can be a very difficult pollutant to remove from the air as there are many different toxic gases produced when a cigarette is lit including very high levels of tar within the smoke. Many other products on the market are simply not strong enough to combat these intense and foul smelling odors and thus do not remove the odor completely. No smoke Steriwater not only removes the smell but it neutralizes the air.
Odor elimination
The Steriwater formula eliminates bad odors. No Smoke Steriwater will eliminate food odors, body odors, tobacco smoke or almost any other odor. For the best outcome No Smoke Steriwater should be diffused with Air Aroma diffuser equipment such as Aroscent, Aroslim and Ecoscent. For home or personal use No Smoke Steriwater is also available in a convenient hand held spray bottle. To find out more please contact an Air Aroma representative. We can assist to remove those unwanted odors quickly and easily with No Smoke Steriwater.